If you want to improve the look of your smile, but the thought of spending years in braces makes braces seem out of reach, you may be a candidate for accelerated orthodontic treatment!
Drs. Barnard and Erickson offer treatment designed to speed up your tooth movement — often up to 50%! Accelerated orthodontic treatment is fast, safe, and easy, and it allows you to finish your orthodontic treatment and achieve your desired smile faster!
---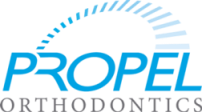 VPro5 Simple. Easy. Fast.
PROPEL Orthodontics' VPro5 delivers gentle vibrations to complement your clear aligner orthodontic treatment. Used for just five minutes per day, the VPro5 helps ensure that your aligners fit properly, making your treatment as efficient and successful as possible.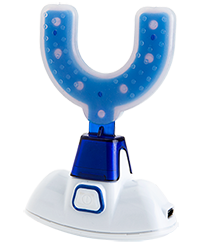 Proper Aligner Seating
Clear aligners are maximally efficient when they're seated correctly, meaning the aligners are gripping the teeth properly. If the aligners don't have a good grip, your teeth will not move into their ideal positions. When teeth don't move as planned, the length of treatment is increased.
With the VPro5, you can:
Complete your cycles at home or on the go
Resume normal activities after a short five minutes of wear time each day
Be comfortable with a gradual ramp up to full vibration frequency
Easily interpret VPro5's intuitive light notifications to know when your cycle is complete
To use the VPro5, simply bite down gently on the mouthpiece while wearing your aligners. There is no need to bite or clench any harder than as needed to support the device. The device will slowly ramp up to full vibration and automatically shut off after the duration of treatment.
---
PROPEL Orthodontics
A fast, gentle way to accelerate your orthodontic treatment
We are excited to offer accelerated orthodontic treatment with PROPEL Orthodontics! If you're interested in improving the aesthetics of your smile, but are put off by the thought of having to spend months or even years in braces, PROPEL could be right for you.
This state-of-the-art technology speeds up tooth movement, and though every patient's situation is different, many can now have their orthodontic treatment completed in less than a year.
So, how does PROPEL work?
Over the past 20 years, new treatment options have made our patients' orthodontic experience more efficient, but not necessarily faster. That is, until now!
PROPEL works with your own biology by stimulating the bone surrounding your teeth. It helps your teeth to move faster and more predictably into their ideal position.
This allows you to see your new smile faster and requires fewer visits to our office. PROPEL can be completed right here in our office and does not require any invasive surgical procedures.
In addition, PROPEL treatment involves very little discomfort. There is zero recovery time and you will be able to return immediately to your normal daily routine.
PROPEL can be used for approximately 80% of patients receiving orthodontic treatment, and can be used in conjunction with any treatment type, including TADs, clear aligners, clear braces, and conventional metal braces.
To learn more, contact our office!
---
OrthoPulse®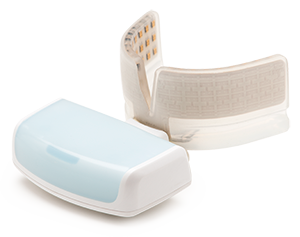 OrthoPulse is a US FDA-cleared medical device intended to reduce orthodontic treatment time. It can be used by patients with either braces or clear aligners. One convenient session of ten minutes per day, at home, can accelerate tooth movement and lead to a great smile in less time.
Reduced treatment time means:
Fewer appointments
Reduced time wearing braces or aligners
Decreased inconvenience of dietary limitations or discomfort normally associated with long-term orthodontic treatment
Achievement of a beautiful smile sooner
Is it safe?
OrthoPulse is cleared by the US FDA for use with both fixed appliances and clear aligners, and is intended as a single-patient device to be prescribed by doctors as part of an overall orthodontic treatment plan.
OrthoPulse produces low levels of safe light and warmth. It is made of medical grade silicone and other biocompatible materials, and it is flexible like a soft sports mouthguard to fit a wide range of patients.
How does it work?
OrthoPulse uses advanced technology called photobiomodulation (which is based on Low Level Light Therapy, known as LLLT) to stimulate the bone that surrounds the roots of teeth and facilitate tooth movement. Photobiomodulation has been researched in medicine for more than 50 years, and there are thousands of peer-reviewed, published scientific articles, and many approved medical devices with this technology.
OrthoPulse uses 850 nm near-infrared (NIR) light, which is similar to heat lamps, to deliver energy gently but directly to the bone and tissue around the roots of the teeth. Similar to plants and photosynthesis, the tissue can absorb this light energy and convert it to chemical energy, which stimulates the cells for faster bone and soft tissue regeneration and faster tooth movement.
Biolux Research Ltd., the manufacturer of OrthoPulse, has sponsored more than 20 studies (in vitro, in vivo, and human clinical) since 2003 to test and perfect the technology.
Using OrthoPulse daily may reduce your treatment time by as much as half.
A Great Treatment Option
OrthoPulse is an exciting and affordable technology for your orthodontic treatment. If you want your new, brilliant smile in less time, ask a member of our team how OrthoPulse can help you finish your treatment as quickly as possible.
OrthoPulse® from Biolux Research on Vimeo