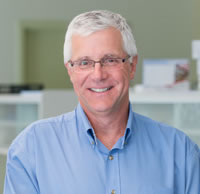 Lee Erickson, BSc, DDS, M.CL.D
Dr. Lee Erickson graduated from Dalhousie University in 1977 with his B.S. in microbiology and with his dental degree in 1981. After working for one year as a dentist in Dartmouth, he went back to university to study orthodontics. He graduated in 1984 from the University of Western Ontario with his Master of Clinical Dentistry and moved back to the Maritimes, where he set up practices in Dartmouth and Bedford. In addition, Dr. Erickson is an assistant professor at Dalhousie University, where he has been teaching dental students for more than 25 years.
Dr. Erickson is keenly involved in organized dentistry. He is past president of the Nova Scotia Dental Society, the Atlantic Orthodontic Association, and the Northeastern Society of Orthodontists, and was the youngest president of the Canadian Association of Orthodontists.
Always a lover of sports, Dr. Erickson is an ex-competitive swimmer and a lifeguard at Parlee Beach Provincial Park. He enjoys trap and skeet shooting, golf, skiing, and snowmobiling. Most often, he spends his off time enjoying the warm waters of the Northumberland Strait at his cottage.
Dr. Erickson lives in Bedford with his wife Debbie. He has three grown daughters who live all across the country, from Halifax to Toronto and Vancouver.