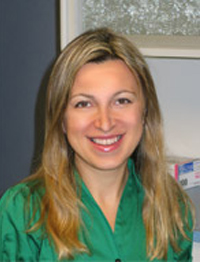 Magda Barnard, BSc, DDS, RCDC(C), Master of Science (Ortho)
Dr. Magda Barnard graduated from Dalhousie University with a B.Sc. in chemistry in 1995 and her dental degree in 1999. After working for five years as a general dentist in Dartmouth, she went back to university to study orthodontics. Dr. Barnard graduated from the University of Manitoba with a Master of Science in orthodontics in 2008 and moved back to the Maritimes, where she joined the practice of Dr. Lee Erickson as a partner.
She has received numerous awards during her academic career, including Dr. Frank Woodbury Memorial Prize, Teledyne WaterPik® Canada Prize, JD MacLean Scholarship, Dr. Stanley Bagnall Memorial Prize, Dr. WHH Beckwith Prize, and the Modern Dental Laboratory Prize.
An active member in organized dentistry, Dr. Barnard has volunteered on various committees for the Nova Scotia Dental Association while in private practice. She is a published author and currently writes the Expert Advice column for the local magazine, Refined. During her career, Dr. Barnard has taught dental students in the orthodontics departments of both Dalhousie University and the University of Manitoba.
She belongs to several orthodontic organizations and associations, including the Canadian Association of Orthodontists, the Canadian Dental Association, the American Association of Orthodontists, the Northeastern Society of Orthodontists, and the Halifax County Dental Society. Dr. Barnard is also on the board of dental specialists for the local chapter of the prestigious international Seattle Study Club®.
A frequent attendee of conferences and continuing education events, Dr. Barnard is dedicated to bringing the best technical advances and innovations to our patients. She is a perfectionist; she will make sure you are thrilled with your smile! Dr. Barnard also believes in working closely with your dentist to make sure your beautiful smile is also a very healthy smile.
Dr. Barnard is a proud sponsor of several community events, such as Bedford Days and for several local youth sport teams and their fundraising events.
In her spare time, Dr. Barnard enjoys spending time with family and friends, and outdoor activities such as swimming, hiking, tennis, and golf. She lives in Halifax with her husband, two children, and four cats.